A warm welcome to our June newsletter
which, like a Scottish Summer, is rather short.
We have just a few new goodies this month so let's wade straight in!
Nora Corbett Patterns
There are
three new Nora Corbett designs
this month.
Pond Lily
and
Lily Pad Sprite
are printed in a new format and are part of a new series called
Pond Pixies
. The two patterns use the same beads so that could be a saving if stitching both. Those are currently out of stock but they're on order and should be available again soon. The third new design from Nora is a new
Poison Pixie
called
Queen Anne's Lace
.
Kits From Andriana, Permin and Bothy Threads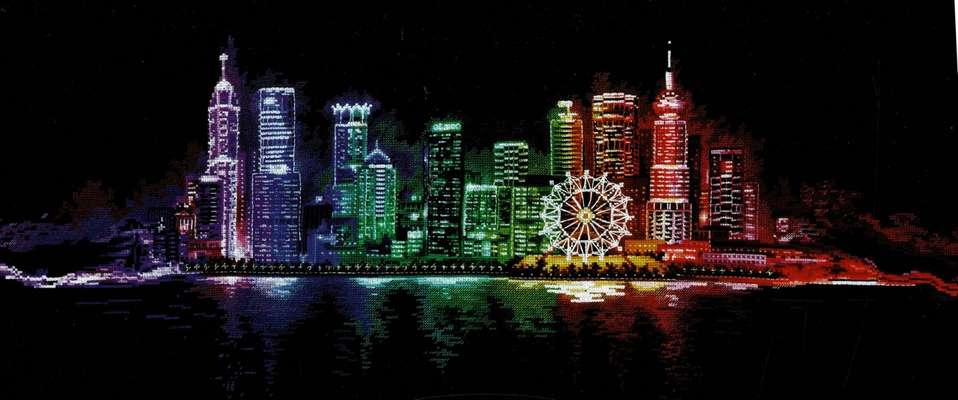 Firstly, the big picture from Russian makers
Andriana
Well, in fact there are two big pictures:
Night Town
(illustrated) and
Victorian Promenade
.
Night Town
is a striking image of high rise buildings along a waterfront illuminated in rainbow colours. It's a large piece - 95 cm (W) X 45 cm (H) (37 X 18 in) and it's on black fabric.
Victorian Promenade
has made a comeback! We thought this popular kit had been discontinued but in fact it's still very much available. At 78 cm X 28 cm (31 X 11 in) it's a lot of stitching but the final result will be worth it.
Permin
have released their
Christmas 2019 Collection
. It features new hardanger items including three pretty tea light holders. We'll have those and more in stock next week when they arrive from Denmark. Also lots of advent calenders, table runners and small pictures and mini Christmas tree stockings.
In contrast,
Bothy Threads
have a new
Summer Collection
which will released on the
7th June
. There are some interesting new designs already previewed on their Facebook page. The three
New England designs
and the
Tree of Plenty
are very attractive and there are more
Bebunni
and
Wrendale
kits too. We expect these in the second week in June.
Long Stitch kit Review
Anne has stitched
Tulips, a Silken Long Stitch kit by Rose Swalwell
of Derwentwater Designs. She was delighted with the results!
Bargain Basement
You can find kits by
Marjolein Bastin
, the famous Dutch designer, in the
Bargain Basement
this month and they are - as usual - half our previous discount price.
And Finally
With apologies to our antipodean friends, Summer is on its way (we earnestly hope) here in the North and this month's title is all about those lazy, endless summer days just the sort to relax in your deckchair and stitch the day away.
By the time it came to the edge of the Forest, the stream had grown up, so that it was almost a river, and, being grown up, it did not run and jump and sparkle along as it used to do when it was younger, but moved more slowly. For it knew now where it was going, and it said to itself, "there is no hurry. We shall get there some day".
- A. A. Milne (The House at Pooh Corner, Ch 6)